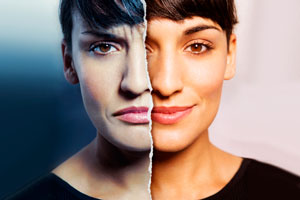 Sometimes it's maybe best to just own up if you did something. See, people respect that most of the time. People like it when you're able to say, "Hey, I really screwed the pooch on this one." They see that you take responsibility for your actions and aren't trying to place the blame on someone, or in this case, some med else.
An Easton woman said she was off her medications when she fought with police officers who responded in May to a dispute between her and her husband.

Patricia L. Louden, 29, pleaded guilty Thursday to two counts of aggravated assault, receiving six to 23 months in Northampton County Prison, plus five years of probation.

"What kind of meds do you take?" Judge Emil Giordano asked Louden.

"All kinds," said Louden, who reported in a court filing that she is bipolar, schizophrenic and has multipersonality disorder.
More like "tripolar" amiright?
On May 26, police were called to Louden's Canal Street apartment by her husband, Joseph Louden, who reported she was drunk and hitting him, according to court records.

Assistant District Attorney Patricia Mulqueen said Patricia Louden kicked and screamed at police and may have spit on them. Louden also threatened the officers and their families, telling officer Jamie Luise that she would "find out where they live and kill his wife and kids," Mulqueen said.

Louden said she had "blacked out," and can't remember what happened. Her defense attorney, Paul Bender, said he believes his client has stabilized her mental-health problems while in jail.

"Her primary concern is to get out and restart her life outside," Bender said. SOURCE: The Morning Call
Does anyone really ever black out and not remember what they were doing and then come back to reality right after it? Sure, you can black out and not remember doing something when you're super drunk, but then you wake up the next day and go, "Oh man, I probably blacked out and don't remember doing anything."
In this case, I just think she's passing the buck. Judges, for the most part, aren't dumb. If you just own up to it, say you screwed up and recognize that and want to move on and not make the same mistake they may be more inclined to whatever.
Or, she's really crazy and in that case, whatever.