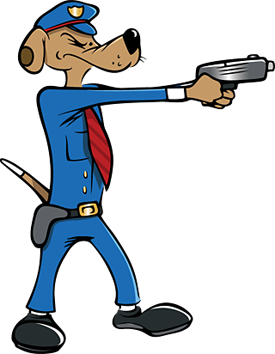 Edo, the one-year-old dog who recently was named part of the first K-9 Unit in Bangor, not to mention the whole Slate Belt, is off to do some Rocky type training before he takes to the mean streets and bites people.
Ok, he won't be biting people, unless they are dealing drugs or running away from him, then his is going to chase them down and bite them! All over!
After years of planning and fundraising, the Bangor Police Department will unveil in October its new K-9 unit, the first of its kind in the Slate Belt.

Two weeks ago, the department received Edo, a 1-year old German shepherd and Belgian Malinois mixed male, from a specialized breeder in the Czech Republic. For the remainder of August, Edo will train in and around Bangor and familiarize himself with his surroundings.

Edo will report to Castle's K-9 Inc. in Mechanicsburg, Pa., on Sept. 4 for a month of rigorous training needed for certification. Officer Kevin Jones, Edo's primary handler, will accompany the dog in training and said that Bangorresidents should expect to have the unit up and running by Oct. 6.

The dog will be taught commands and instructed in German, Jones said. SOURCE: The Express-Times
OK, even a cynical person has to admit that the dog being trained in German is pretty badass. Imagine if you're a criminal and being chased and the handler is all like "Edo! Holen Sie sich die schmutzige Straf-und abbeißen alle seine Beine und essen sie vor ihm, während er um Gnade schreit!"
Cuhhhrazzzzy.
Do you think Edo's touring Bangor now, though, and is like, "Really? Realllllllly? This is where I'm supposed to unleash my superior training? I'm a trained canine of chaos!"
Well, on second thought, he may have his paws full.
Head to The Express-Times for Edo's gallery.
We're giving away Artsquest "Best of Craigslist" tickets!