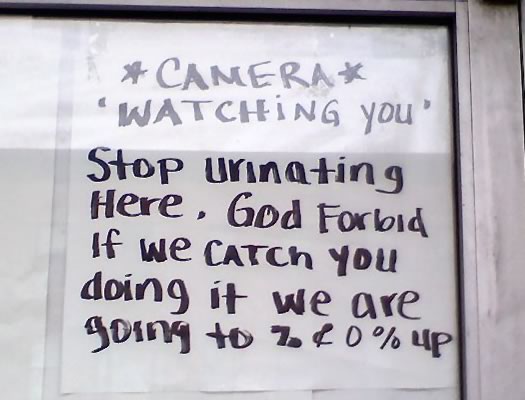 I have a friend who pees himself nearly every time he drinks. It is what it is. But, it's also super troubling. Like, if you're going to pee yourself when you drink a lot, why do it? Would you rather be able to drink or pee all over your bed?
If you answered, "peed all over your bed" then… whatever, but you can't sleep at my place, yo.
A Macungie borough councilman has decided to resign after being charged with open lewdness, disorderly conduct and public drunkenness for allegedly urinating on a neighbor's porch Friday afternoon.

A police officer was on the unit block of W. Chestnut Street investigating complaints that Linn Walker, 70, had repeatedly urinated on neighboring properties when he observed Walker relieving himself in public about 3:30 p.m., according to Police Chief Edward Harry Jr.

"While the officer was speaking to [residents], Walker exited his home and proceeded to a neighbor's home at 43 W. Chestnut St. where the officer and the residents witnessed him urinating on the porch pad of that home and a garden hose and gas can lying next to the porch," Harry wrote in a news release.

Residents had reported seeing Walker urinate outside during daylight hours and in full view of them and their children on numerous occasions, Harry said in the release.

Reached by phone Saturday afternoon, Walker said he has a "weak bladder." SOURCE: The Morning Call
Either this guy was 1. super drunk (which he disputes) or 2. has a pretty serious sleepwalking problem. 
Regardless, your neighbors are bound to get upset if you're peeing on their stuff.
Also, this is life in Macungie. It must be pretty exciting down there.
Don't forget, Musikfest has started and we have tons of prizes to give away in the Musikfest Photo Scavenger Hunt. All you need is a camera.