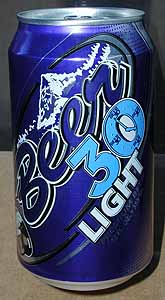 UPDATE! We have a Facebook Profile to go along with this now…
I'm pretty sure I drank Lionshead from a can this weekend. So, I'm not exactly your go-to guy for beer snobbery. I enjoy interesting beers. I also enjoy god-awful beers. I am an equal opportunity beer guzzler.
So, if anyone showed up at my house party with the wrong kind of beer. I'd shrug, give them one of those cool fist bump thingies, and then drink the beer with them.
I mean, unless it was that Beer30 Beer. That stuff just looks unsafe to drink. C'mon, look at it.
A young Heidelberg Township man on Monday admitted knocking out a friend at a house party in January after the victim, who suffered a skull fracture and brain bleeding, arrived with the wrong kind of beer.

Jeremy J. Kegarise, 19, (FACEBOOK PROFILE) pleaded guilty to simple assault, a misdemeanor that carries up to two years in prison. In return for the plea, felony aggravated assault and summary harassment were dropped.

Lehigh County Deputy District Attorney Anna-Kristie Morffi Marks said the fight occurred around 11:30 p.m. on Jan. 28 at a home in the 7400 block of Camp Meeting Road in Lynn Township.

Kegarise had given Antonio M. Inzillo, 21, of New Tripoli, $15 to buy beer and wasn't happy when Inzillo came back with the wrong kind, according to testimony. Inzillo was asked to buy it because Kegarise is under age.

"What type of beer did he buy?" asked Judge James T. Anthony, as Kegarise smiled and looked downward.

"He bought Yuengling (lager); he was supposed to buy light beer, judge," responded Kegarise's attorney, public defender John Baurkot.SOURCE: The Morning Call
There's nothing wrong with some Yuengling.
See, people who get all mad over what other people drink are the same kind of people who tell you what to eat. Do you REALLY care that someone is drinking a Coors Light when they could be drinking a Hops Infusion? Or, do you just want them to know that you have read about and tasted other beers that they have not in order to further your coolness?
So, I say, drink whatever you want. But, if you want to be fancy, then be fancy. Or, if you want to start fights and have some guy get bleeding on the brain, then be a douche.