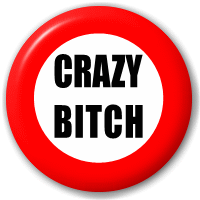 Driving should not be taken lightly.  I remember watching a television program about how Volkswagen designers didn't understand why, when designing cars for the U.S. market, they were told to include more cupholders.
They were like "Who is going to be drinking coffee while they drive? Driving is all about driving and focusing on driving." How romantic.
Americans text, drink, smoke, read, and fuck while driving, resulting in who the hell knows how many deaths.
Apparently, they also like to grab the wheel even if they are NOT driving and proceed to kill people….
A Scranton, Pa., woman has been charged with homicide and attempted homicide after she caused a car to crash Feb. 7, killing her boyfriend and injuring her two children, according to a news release from the Lehigh County district attorney's office.

The release says Steffanie Ramos, 25, of the 500 block of River Street, was arguing with Rene Andres Amaya while they were driving south on the Northeast Extension in North Whitehall Township.

Ramos, who was sitting in the passenger's seat, grabbed the steering wheel and jerked it to the right, the release says. The car crossed over a lane of traffic before rolling down an embankment, the release says.

While Ramos jerked the wheel, she said "I hope you all … die," the release says.

Amaya, 42, of Paterson, N.J., and Ramos' two children, ages 2 and 4, were thrown from the vehicle. Amaya's death was attributed to multiple blunt force trauma and was ruled a homicide. Ramos escape serious injury in the wreck, the release says. Source
Woah. Put yourself in that situation. Holy Mother Fucking Shit this lady is all sorts of bat poop insane.
This actually made my black heart sad for a few moments while reading it.
I imagine that she also will say how this wasn't her fault or something and she did it because she was "forced" to due to tons of abuse or that the kids were pestering her so much so she was just trying to teach them a lesson.
Wish I had something a bit more pleasant for you as we head to a holiday weekend, but at least it can remind you to fucking drive safe. And to not drive any crazy fucking bitches home from the bar for any reason.
0

comments:

Join the discussion
---